DMV Written Test cheat sheet
W

yomin

g
Very good service. This cheat sheet captures many important questions on the written test
Shopping experience quick and easy. This concise PDF helped me saved hours reading the WY drivers handbook
Great fast and quick service. I passed my Wyoming car permit test! Thanks
This DMV Test Cheat Sheet is exactly what I needed to renew my DMV License. I appreciate the way it was prepared
It was painless! My husband ordered the car permit test cheat sheet for me. :))
Great Help. Thank You. Needed all the help I could get.
It was easy and delivered right on the spot, no waiting. Thank you for making the written test a little easier.
THANK YOU!!! for making this -out-of-state driver fearless about the car permit test and process! Cheat Sheet well worth $16.99 !!
I never knew there was a better way besides the DMV manual to prepare for this test. Thank You!!!
Appreciate this help and hope my son can pass on his second try!
See EXACTLY what you need to know to ace your DMV exam. 99.2% pass rate
See the exact questions on the Wyoming DMV test with this state specific practice test and study sheet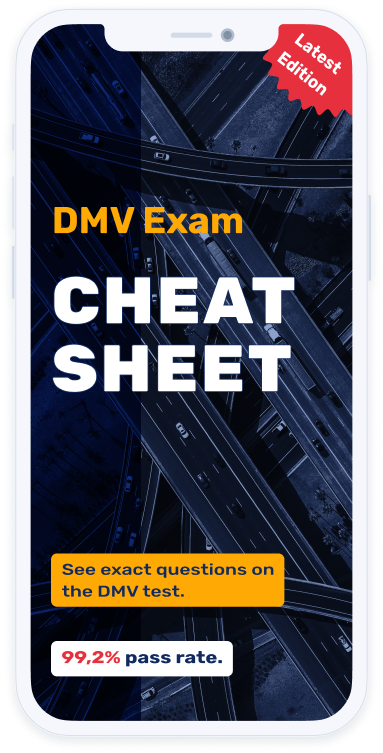 Pass your Wyoming DMV exam the first time.
Guaranteed.
99.2% of people who used our 2021 Cheat Sheet passed their written test the very first time.
Source: CBS News
No matter how smart you are, the DMV book can leave you confused and unprepared. And it's not your fault. It's poorly structured, takes 6 straight hours to read, and was made to inform, not to help you learn quickly.
We'll show you
every question

on the Wyoming test

The 2021 Wyoming DMV handbook drags on for 127 pages and will take you hours to get through. Our Cheat Sheets are free of nonsense and give you EXACTLY the info you need! So compact you could read it on your way to take the test.
Every question & answer you MUST KNOW for the Wyoming test with thorough explanations.

US Traffic signs & signals you MUST know!

Learn in 30-60 minutes! Read it on the way to the exam

Doubles your chance of passing!

View on your computer, tablet and mobile phone!

Fully guaranteed!
Save time by seeing questions and signs most likely to be on the Wyoming test.
Don't say 'YES'. Just say 'Maybe' & use our cheat sheets RISK-FREE
We know buying anything online is a risk.
We also know that you see the word "guarantee" everywhere. It's often just a meaningless word to get you to buy something.
So, we want to make you a personal promise...
Because 1000's of people have used this cheat sheet to pass their exam the first time, we are 100% confident it will do the same for you.
We want you to try our DMV cheat sheets. If you don't pass the first time, we'll give you a full refund.
Just send us an email.
Not sure this will work for you? See what past customers are saying.
Karla only needed to Study for 1 hour. She then went to the DMV and Passed her test
Kathy Tells us how she prepares for Her Renewal DMV Test
DMV Test Cheat Sheet: John Tells us How to Ace The Driver's Test On your First Try
Diondra Passed her DMV Test and Can now get the job she wanted!
1,000+ 5 star reviews on ShopperApproved.com
5.0
Overall Satisfaction Rating
Really helped with retaining information. Doesn't matter if you're cramming at the last minute or you've been studying for months, it's a real game changer! I passed with a perfect score on my first try!
5.0
Overall Satisfaction Rating
I downloaded the cheat sheet to my cell phone while I was in line at the DMV just studied for about 30 minutes and took my test and passed easily.
5.0
Overall Satisfaction Rating
Sheets were for my teenage daughter and are awesome, much better than the DMV manual. Very easy to read and understand. I enjoyed reading them as a refresher.
100% Money Back Guarantee
Secured Payments
* On top of already discounted Price

Luca S.
(Denver,Colorado)
Bought a Premium Cheat Sheet
a few hours ago!